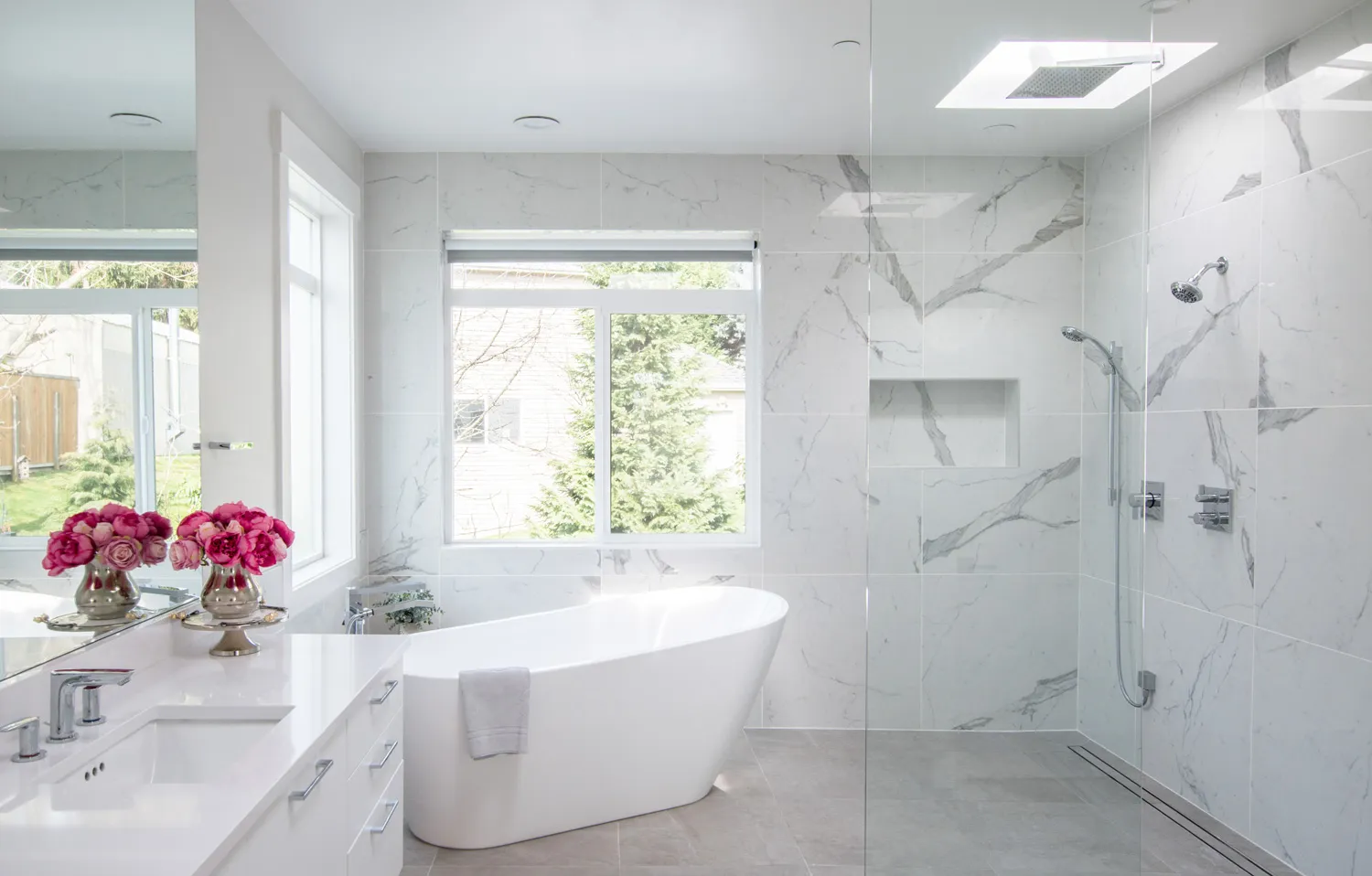 Key Questions for Your Bathroom Remodel
A bathroom remodel is a significant undertaking, albeit with a shorter duration and a more confined area compared to a kitchen remodel.  As an interior designer, I will pose the following questions to guide the process effectively:
What led to your decision to remodel the bathroom?  Share with us the specific aspects that you dislike and appreciate about your current bathroom.
Do you have any specific layout or color preferences that you dislike?  Are there any functional issues or limitations with the current bathroom that need to be addressed?  Understanding your why will assist us in establishing clear goals for your remodel
What is your budget? Are there any essential features or elements that you consider must-haves?
We typically have discussed general budget at the first discovery session.  Prioritizing what you need to have is helpful for budgeting, scope defining and floor plan development phases.
Do you have any other bathroom that you can use during remodel?
During the construction, there will be some dust and noise, rendering the bathroom unusable.  Will you have access to alternative bathroom(s) or will you need to relocate from the house?
Envision your dream bathroom without any restrictions on space or budget
When it comes to budget discussions, we often restrain ourselves and only express what we believe we can afford, rather than expressing our true desires.  While it's true that certain constraints may require prioritization, fully understanding your aspirations is an incredibly valuable exercise.  By embracing this process, we gain valuable insights into your genuine preferences and create a design that aligns with your vision.
Are you open to taking down walls or expanding your home?
During the space planning and floor plan development phases, we'll explore various options to optimize your layout. Sometimes, we might need to creatively borrow space from adjacent rooms to achieve the ideal result.  Additionally, expanding your house could be considered to unlock even greater potential.
How many people use the bathroom? What are their ages?
Having two sinks is preferable when multiple people are using the bathroom.  However, if space is limited or storage is a priority, you may consider having just one sink. It's important to consider the sound impact if one person's usage schedule differs from another's. If small children will be using the bathroom, it is important to consider additional factors.  These may include providing a step stool, as well as allocating space for a hamper and toy storage.  Ensuring effective accessibility for bathing children is also crucial.
Do you need an additional or larger window? If so, what type of window would best suit your needs?
Windows offer natural light and ventilation, while skylights skylights can be an effective addition for enhanced illumination. Windows can be either fixed or operable.  Consider privacy by planning for window treatments or obscure glass options.
Are there any specific accessibility requirements or considerations to be taken into account?
Have you considered incorporating universal design principles in your bathroom remodel, such as including a large shower stool without a curb and installing grab bars to enhance accessibility and safety?  Do you require a separate tub for your bathroom remodel?  This could include options such as a freestanding tub, a deck tub, or an alcove tub.
Do you have any specific outlet and lighting requirements?
Would you like to include features such as an LED mirror, a magnified LED mirror, heated floor, towel warmer motion sensor lighting, electronic tooth brushes, or additional outlets specifically for hair and beauty products?
Have you considered incorporating energy-efficient, water-conserving, or other eco-friendly features?
These include time or occupancy sensor light switches, low-flow shower fixtures, dual flush toilets, and maximizing natural light through windows and skylights.  Additionally, installing a recirculation system for hot water and opting for an energy-efficient water heater can further enhance the eco-friendliness of your bathroom.
What are storage requirements or preferences?
Are there any specific storage needs or preferences for bathroom cabinets, shelves, or vanities? Where do you store medicines, shampoos, towels, toilet paper, and other items?
Are there any additional features required?
Some of these features may be: large rain shower head, hand shower, body spray, recessed niche and size, towel racks, wall-mounted faucet, wall-mounted toilet, shower glass door or slider, and so on.  Are there any long term durability concerns for specific materials?
Do you prefer a specific style or theme for the bathroom, such as contemporary, traditional, spa-like, or minimalist?
If you have any pictures you could share with me, it would be really helpful. By looking at these images, I can get a sense of the common themes and features that appeal to you and create a perfect story for YOUR bathroom.