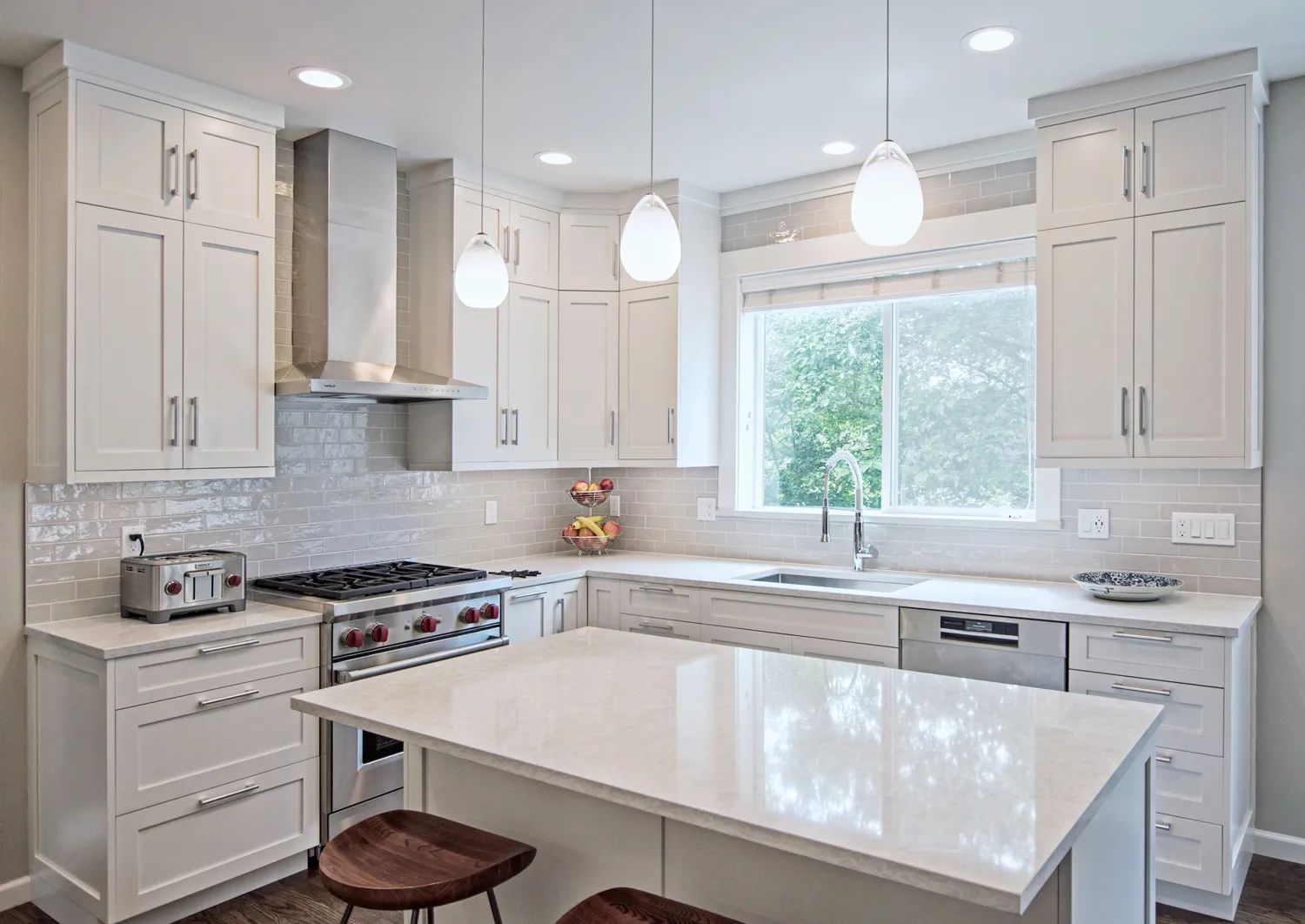 Key Questions for Your Kitchen Remodel
Embarking on a kitchen remodel is a significant investment, and we want to make sure that the end result is a functional, curated space that truly reflects YOUR unique style.  Consider these essential questions as you begin your kitchen remodel journey:
What prompted your decision to remodel the kitchen? Identify the aspects you dislike and those you appreciate in your existing kitchen.
Are there any specific layout or color preferences you dislike? Is the current functionality suitable for your lifestyle? Understanding your dislikes will help us establish clear goals for your remodel.
What is your budget? Are there any must-haves or non-negotiables?
We typically have discussed general budget at the first discovery session.  Prioritizing what you need to have is helpful for budgeting, scope defining and floor plan development phases.
Envision your dream kitchen without any restrictions on space or budget
Often, when discussing budgets, we tend to hold back and express what we think we can afford rather than what we truly desire. This subconscious self-limitation can hinder the exploration of possibilities. While it's true that certain constraints may prevent us from including everything, it is still an incredibly effective exercise to understand your aspirations fully. By embracing this process, we gain valuable insights into your genuine preferences and create a design that aligns with your vision.
Are you open to taking down walls or expanding your home?
During the space planning and floor plan development phases, we'll explore various options to optimize your layout. Sometimes, we might need to creatively borrow space from adjacent rooms to achieve the ideal result. Additionally, expanding your house could be considered to unlock even greater potential.
How many people use the kitchen, and what are their ages? Who are the primary chefs?
Consider your eating schedule and cooking style to tailor the kitchen design accordingly.
Do you frequently entertain guests? Would you like a large formal dining area or table?
Open concept kitchens with dining areas are popular, and a large island is highly sought-after. However, we understand the importance of a formal dining room for some families. Additionally, integrating outdoor spaces with the kitchen creates an exceptional environment for entertaining.
What are your appliance and plumbing fixtures requirements?
In designing your kitchen, we take into account the specific sizes, numbers, and types of appliances and electronics you prefer – wall oven, wine cooler, coffee maker, beverage refrigerator, microwave, additional freezer, warming drawer, induction or gas range/cooktop/range top, TV monitor, range hood size and power
Similarly, let designer know the ideal plumbing fixtures, such as sinks, pot fillers, instant hot, water purifiers and more.
Assess your storage and display needs
Make a list of items you currently have, including special-shaped pots, cookbooks, small appliances, and any collections you wish to showcase.
Share examples of pictures of kitchen you like and dislike
During the design phase, our experienced designer will create a personalized mood board to explore your design preferences and discuss your likes and dislikes. While I have a knack for identifying people's style and love "omakase" (leave it to chef) , I value your inputs and suggestions.
You can explore examples of our work on our Portfolio page as well as on popular platforms like  Houzz, Pinterest, and Instagram, providing you with inspiration and a glimpse into our design expertise.
Consider Logistics: Staying or Moving During Your Remodeling Project
During the remodeling process, it's important to consider whether you will be staying in the house or planning to move out temporarily. If you choose to stay, we can work together to minimize any disruptions to your daily life. We understand the significance of your comfort and will explore strategies to ensure a smooth and hassle.
Remodel Completion Timeline: Any Specific Deadlines?
We understand that certain situations may require a specific completion date for your remodel project. If you have upcoming family visits or temporary housing arrangements, please let us know. We will take your deadlines into consideration and schedule the work accordingly.